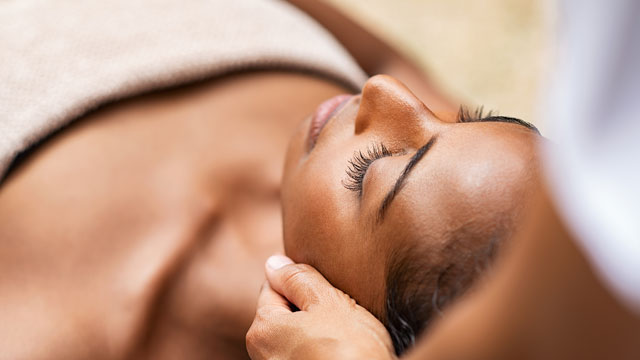 Hydrodermabrasion is an innovation in skincare technology, a crystal-free alternative to microdermabrasion. Utilizing water jets, this process breaks up the outer layer of skin to reveal a smoother, more radiant, and even skin tone.  The Hydrodermabrasion Facial is gentle and very relaxing without discomfort and is perfect for people who want to exfoliate but have extremely sensitive skin. After treatment, the skin may become slightly pink, but the color subsides quickly as the Hydrodermabrasion Facial increases circulation and lymph flow. To achieve the best results a series is recommended initially.
Benefits of the Hydrodermabrasion Facial
Safely treats all skin colors and skin types
Immediate visible results after the first treatment
Improves skin elasticity and muscle tone
Improves the appearance of aging and thickening skin
Diminishes the appearance of fine lines
Helps repair sun-damaged skin
Encourages softer, smoother skin
Reduces the appearance of scar tissue
Hydrodermabrasion Facial FAQs:
Q: Can the Hydrodermabrasion Facial be used on all Skin Types?
A: The Hydrodermabrasion Facial can be used on all skin types to repair aging, congested, blemished, dull and discolored skin. Oily skin can benefit from this treatment by becoming less greasy as pore size is reduced significantly. In addition, mild acne scars can be reduced, and fine lines can be eliminated.
Q: How does the Hydrodermabrasion Facial work?
 A: Specific gentle abrasive tips provide a deep exfoliation for comfortable pore cleansing as incoming liquid gently washes away the peeled cells, absorbing oil and sebum. Solutions and serums hydrate the skin revitalizing the immune system and increasing circulation leading to brighter skin.
Q: How long does the Hydrodermabrasion Facial take and is there any downtime?
A: The entire process can be performed in a 60-minute session time.  (Session time allows time for consulting and dressing). Guests can return to their normal lifestyle immediately after treatment.
Q: How much does it cost and are there additional costs?
A: $154.95 is our everyday price and $139.90 for our valued members.  Yes, there will be small additional charges depending on the enhancements you choose to add to your Hydrodermabrasion facial
            Serum Enhancement $15.00 – $20.00                 Ultra-sound Enhancement $15.00 – $20.00
            RF Lifting Enhancement $15.00 – $20.00            Hot & Cold Enhancement $15.00 – $20.00